Customize Your Interior: Kitchen Cabinets & Countertop Selections
---
February 4, 2015
Kitchen and flooring installations begin to really show the customizations of your one-of-a-kind home.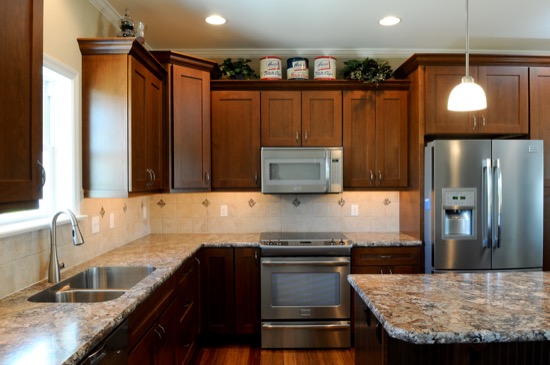 Kitchen Cabinets: There is a lot to consider when selecting cabinets: construction of the cabinet, finish or color, door style, hardware options, moldings and cabinet heights. The cabinets will also tie in with your other kitchen features, such as flooring, faucets and appliances, to name a few.
While this can seem overwhelming, we feel comfortable referring you to one of our experts and trusted suppliers to help walk you through this selection process. Janet Metzler is also available to assist in selections as needed, or you may have an interior decorator or designer that can help you making your selections. Don't be afraid to turn to these resources, as they are the experts – they help customers pull together beautiful kitchens every day.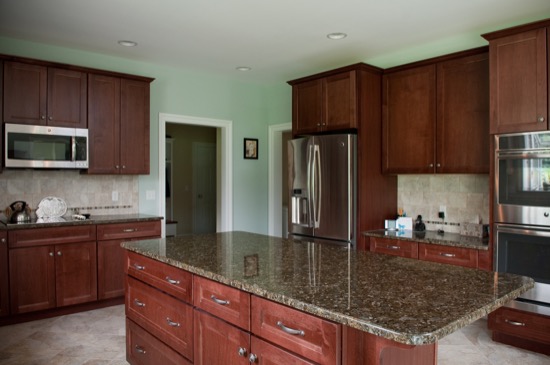 Countertops: Formica countertops provide the most cost-effective solution and also allow for many different color and finish options. There is no shortage of hard surface upgrade options, though, and many people immediately think of granite when considering a countertop upgrade. After all, it is readily available and is the most popular option for a hard surface countertop. Quartz is another natural stone option, and Corian, a man-made product, is another hard surface option. Wood and concrete tops are not quite as popular but are available for those who desire a unique countertop solution.
We asked Phil Clemmer, our trusted salesman from Swartz Kitchens and Baths, about the trends he is seeing in terms of cabinet and countertop selections. This is what he had to say:
"For the last few years, the cabinetry industry has been doing the same things in the kitchen. Having said that, we are now incorporating a couple of things together to create a perfect environment to work in. The two main colors being used are the Espresso and the soft white paint, with some manufacturers calling them different names, like Chiffon or Antique. We are using them together by designing the kitchen's perimeter in soft white and the island in Espresso. Two-toned kitchens are still very much in vogue.
 On the cabinetry architectural side, staggered cabinetry is being used in many upper-end kitchens because most ceiling heights in these homes are nine foot. Wall cabinetry height varies from 36" to 42" which leaves a 12" to 18" open soffit above, which creates stunning detail by creating a look that is not so typical where every cabinet is the same height."
"A similar effect can be created by altering the depth of cabinet throughout the perimeter of the kitchen. By integrating the use of multi-colored along with varying heights and depths of cabinetry, a stunning effect can happen where the kitchen now looks much more like furniture than it does a ho-hum kitchen."
Read more about customization here.
Related Articles
// END PAGE CONTENT ?> // FOOTER ?> // END FOOTER ?>