Home Maintenance Checklist: February 2015
---
February 18, 2015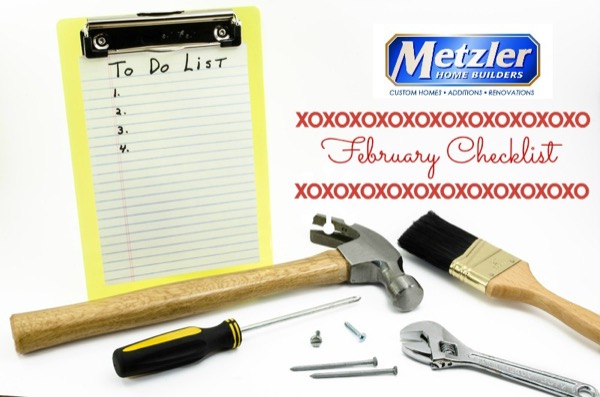 The cold weather we've had this month gives you an opportunity to tackle some of those inside chores. Do them now so you can enjoy the warmer, springtime weather when it arrives (and it will come).
Organize your closets. Go through the closets, toy chests and basement and figure out what you are going to keep, what you are going to sell in your spring yard sale and what you will donate. Even if you only do a little bit at a time, you'll immediately begin to see the rewards of your hard work with all of the space you gain.

Organize your crafting area and/or workshop. If your fun space is feeling a little out-of-control, take some time to organize it. Buy some bins, jars and/or peg-boards to help you stay organized. You'll probably find some tools that were misplaced, too.

Clean the mud room / entry way. This time of the year, the salt, sand and dirt that your family brings into the home can really play havoc on your floors. Take some time to clear the clutter out of the mudroom and give your floors a thorough cleaning.

Clean the inside of your windows. After the cold, gray winter we've had, we all want to be able to enjoy as much natural light as possible.

Clear out the "junk drawer." Every house has at least one, so take a few minutes and clear it out. You may be surprised what you find and what you kept that you no longer need.
Related Articles
// END PAGE CONTENT ?> // FOOTER ?> // END FOOTER ?>