Home Maintenance Checklist: May 2015
---
May 6, 2015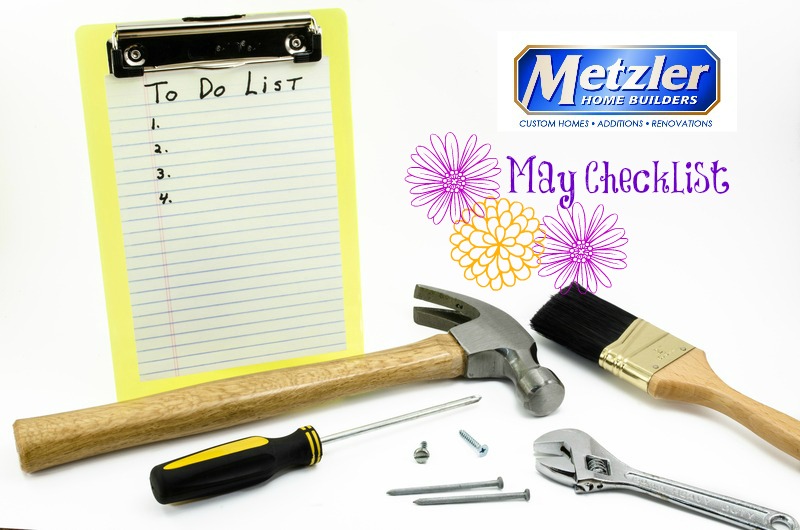 After much anticipation and longing, spring has finally arrived! Before hazy, hot and humid days descend upon us, this month is the ideal time to get some chores done around the outside of your home.
Trim shrubbery and trees. If there are any bushes or tree limbs that look like they are damaged or may rub against the exterior of your home, trim them now before strong spring thunderstorms roll through.
Clean decks and patios. Remove mold and mildew using detergents and a scrub brush, and for extra grimy decks, a power-washer may be necessary. If you have a wooden deck: as you clean, make note of any loose, warped or splintered boards that need fixed or replaced, and if needed, apply a new coat of weather-proofing paint or stain.
Inspect your sidewalks and other concrete areas. Ground temperature changes can sometimes cause your sidewalks and other concrete areas to shift and become uneven. Additionally, ice melt used during the winter can cause your concrete to crack. If you find any issues, get them fixed so someone doesn't trip and get hurt.
Schedule air conditioning maintenance. Don't be the one who gets caught without a working air conditioning unit during the hottest week of the summer! To keep your air conditioning running at maximum efficiency and to detect any potential problems before they become major issues, get your unit checked and cleaned by an HVAC company annually.
Check your exterior hoses for freeze damage. To check for freeze damage, turn on the outside spigot. If you can stop the flow of water with your thumb, you most likely have a damaged pipe inside the house.
Clean your grill. Before the Memorial Day weekend get-together, give your grill a good cleaning and replace any rusted or damaged parts. While you are at it, inspect the propane tanks (if applicable) to make sure they are in good working order.
Related Articles
// END PAGE CONTENT ?> // FOOTER ?> // END FOOTER ?>