Simple Ways to Redecorate Your Home in a Day or Less
---
January 7, 2015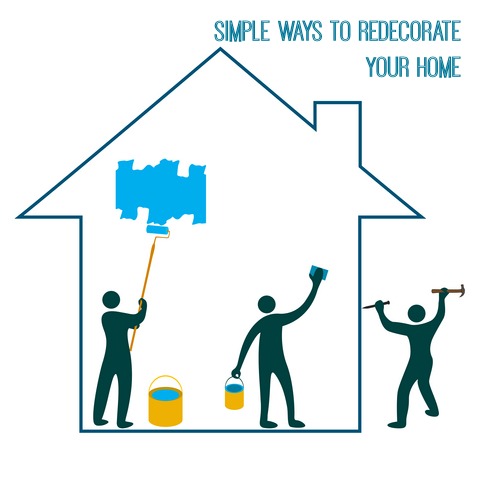 It is January, and the start of a new year often sparks an interest to update your home. Sometimes this means discussing a remodeling project with your local contractor or getting started on the design of a new backyard landscaping project. But sometimes a much smaller project can "do the trick" to make your home feel new again.
If you struggle to find easy ways to decorate your house, don't get overwhelmed. Sometimes the smallest changes make the biggest difference to the look of your home – inside and out. It is always smart to begin with one room, completing that and then moving on to the next.
Here are some ideas to get you started.
Before Decorating
It may not sound like much fun, but the first thing you should do before decorating any room is to clean it up. Wash all windows, carpets, floors and walls, and get rid of the clutter by removing any items you no longer want. You can stick them in a corner of your garage to sell at the next community yard sale or to list them on Craigslist; you can donate them; or if they are broken or too worn, you can trash them.
From there, you have a clean palette in which to work. Make a blueprint of the room from grid paper (there are also useful room design programs online), so you know exactly how much space you have to work in. Besides measuring the dimensions of the room, also mark windows, outlets and other items that need to be considered when decorating.
Walls
Think beyond traditional paint, and consider wallpaper. Wallpaper is a great way to change the vibe of a room. There are thousands of wallpapers to choose from. Don't be afraid to mix it up and think differently about how to utilize wallpaper in a modern way. For instance, you could wallpaper only one wall, or create an interesting chair rail.
If you do want to paint, there are many options. Faux painting is a popular technique that really adds dimension to a room and makes it more unique. You can also add a mural, or use "chalkboard" paint to create a fun and functional surface.
Rearranging
Another simple way to redecorate is to rearrange your furniture. It will make a big impact on how the room will look and function. Again, it doesn't have to be a full-day affair. You could easily make your living room look completely different by changing the location of one or more items:
Couches
Bookshelves
Stands
Lamps
Centerpieces
Tables
Throw in a few inexpensive accessories — throw pillows, glassware, lamp shades — in a new accent color, and you'll create a whole new space with very little financial investment.
Painting Furniture
If you have a table, bookshelf, stands or lamps that you don't mind painting, you could also try repainting them for a bolder or more modern look. Depending on the color you choose, your "new" furniture could change the atmosphere of the room completely. Also consider painting the door, ceiling and trim on the inside of your room.
Artwork
Displaying unique sculptures or hanging paintings and artwork is a great way to redecorate, too. The art doesn't have to be expensive, either. You can find nice pieces at flea markets and consignment shops. If you are artistic, you can even make some unique pieces yourself.
Rearrange or refresh – it is up to you. But remember, sometimes the smallest change can make a big difference in how you enjoy your space.
Related Articles
// END PAGE CONTENT ?> // FOOTER ?> // END FOOTER ?>