Tag: Custom Home Building
The National Association of Home Builders has proclaimed June as National Homeownership Month, and to kick-off this month-long event, we wanted to provide you with some obvious – and not so obvious – benefits of building or buying a new home.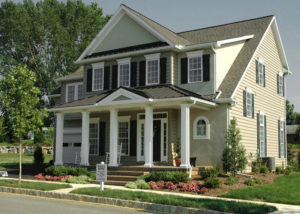 The Obvious Benefits
There are many obvious benefits of building a new home instead of purchasing an existing one. Here are a few:
The science of building a home has improved greatly over the years. Today, new homes are built with a higher energy efficiency rating than older homes – even those that aren't all that old.

Home technology is incredible. Every year, new technologies are being incorporated into homes – from the ability to monitor your home from your mobile device to behind the walls features that improve how we live within the home.

Floor plans have become more open – and attractive – in new homes.

New homes come with warranties. In addition to the builder warranty, there are warranties on many of the products within the home. Together, this gives home buyers a peace of mind that you don't get by purchasing an existing home.

The ability to select your appliances, flooring, paint colors, cabinetry, exterior finishes … and more make building a new home very attractive.
The Not-So-Obvious Benefits
There are a many not-so-obvious benefits of buying a new home that customers have shared with us. Here are a few of our favorites:
When you build a home in a newer community, like Willow Bend Farm in Lampeter Township, you get the benefit of meeting others who are new to the neighborhood, too. Often it is these connections that form strong bonds of friendships for decades to come.

Many desirable amenities are built into new neighborhoods. For instance, Willow Bend Farm has wooded areas with walking trails, sidewalks, a community building and is located close to several golf courses. Many other neighborhoods across Lancaster County boast similar niceties that older neighborhoods don't have.

There are many advantages of being a first-owner of a home. Everything is clean, and you don't have to worry about stripping tired wallpaper from the dining room or repainting to suite your tastes. Outside, you can enhance the landscape by planning flowerbeds and gardens the way you envision.
If you are considering buying a home, we invite you to attend the BIA's Parade of Homes where we'll have one of our Willow Bend Farm homes on display. The Parade runs June 14-22, weekdays from 5-8pm and weekends from 12-6pm. It is free to attend.
Visit the Parade of Homes website to see all the details on our home in Willow Bend Farms.
When building a home or undertaking a remodeling project, you expect to have to make a variety of decisions. From design to finished detail and everything in between, the design/build process is one that comes with many selections, and from there, choices of what fits your lifestyle, tastes and budget are made.
But what might be surprising to you is that when our customers build or remodel with us, they also have an additional choice:
 They have the freedom to use subcontractors that they have an existing relationship with – instead of ours.
Recommending your subs
Most people are amazed to discover that we "allow" our customers to work with subcontractors they know and recommend because many other builders and remodelers don't. While we certainly see the rationality behind why other builders will only work with specific subcontractors, we, on the other hand, see this customized construction experience from another perspective – through our customers' eyes.
For starters, while we may be the builder, building or remodeling a home isn't about us; it is about what our customers want for their home. Often, our customers have spent years dreaming about their perfect home, and they have chosen us to help facilitate that process. The people who choose to build or remodel with us are trusting us to listen to and design the home they have in mind. They are confident in our skills to be able to deliver their home in a safe and timely manner and make it an enjoyable experience.
Secondly, by "allowing" new-to-us subcontractors to work on your home, we recognize that you are verifying that the sub is legitimate and understands his craft. We know that you would not want a subcontractor working on your home that you did not trust.
Additionally, we fully recognize that there are many outstanding subcontractors in our area, and often we've even heard of these folks. We recently completed projects where one homeowner had an existing relationship with an excavator and another homeowner's brother-in-law was a superb drywaller. And even though the subcontractors were new-to-us, both projects went just fine.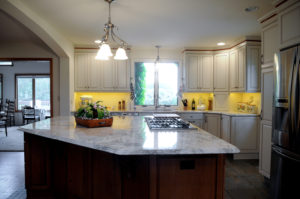 Timing is Everything
When working with a customer-recommended subcontractor, our biggest concern is timing of the project. We've made a commitment to you, our customer, that we will deliver your home by a particular date. What we have found is that professional subcontractors understand this, and they, too, want to adhere to the schedule and give the homeowner an amazing construction experience.
For all of these reasons, this is why we don't shy away from using new-to-us subcontractors. In the end, our customers are the ones who need to be comfortable, and it is up to us to deliver an experience that is pleasant and memorable.
"NOW…is a great time to build" – Dan Metzler, President of Metzler Home Builders.
We have already seen some positive signs in the home building industry in the early weeks of 2012. Many in the industry could be described as "cautiously optimistic" regarding this slow recovery in new home construction. There are some definite signs of increased activity, and with that comes reason to believe that some of the best advantages of building a new home now could be changing in the near future. Here are 4 reasons that NOW is a great time to build.
Interest Rates – Rates for a 30 year fixed mortgage are currently around 4.0%, and for a 15 year fixed are under 3.5%. Interest rates seem to keep drop- ping lower and lower…but eventually they will come back up. If you are waiting to see if they drop even lower, you are better off taking advantage of these historically low rates now and eliminating the risk of waiting too long.
Cost of Construction Labor & Materials – The prices we are seeing from sub-contractors and suppliers are extremely competitive. Many contractors are willing to bid their services very competitively so they can keep their crews busy. The cost of building materials has been low also, but we are starting to see price increases. As our industry continues to recover (which we are already seeing signs in early 2012) the pricing on labor and materials will gradually creep up. Now is a great time to build your dream home and take advantage of these competitive prices in labor & materials that are sure to increase.
Quality of Contractors – Builders and sub-contractors who have made it through the recession must be doing something right. A recession will weed out those businesses that are not providing a quality product or service no matter what the industry; the construction industry is no different. You can be assured, now more than ever, that most contractors out there are providing a quality product at a fair price, and have been for a long time.
Building New vs. Buying Existing – You might be aware that in our current real estate market, you can purchase an existing home for noticeably cheaper than a new home with similar features and comparable size. Is this the only factor that matters when comparing building a new home to buying an existing one? As a builder of new custom homes we might be a little biased, but here are a few things to consider.
*New homes are more energy efficient; they will save you money by using less energy, sometimes significantly less than older existing homes.
*A new custom home will be exactly what you want! You may find an existing house that has most of what you are looking for, but you will still have to make some changes to get things exactly the way you want it. You can save the money of renovating or updating, and put it toward building your new home.
*New homes have warranties. Even if the builder does not provide a warranty, many products have homeowner warranties. At Metzler Home Builders, we provide a full 1 year warranty and service your home at your convenience for things that may come up during that first year and beyond.
These are just a few things to consider if you are considering building in the near future but are unsure of the best timing. NOW, really is a great time to build!