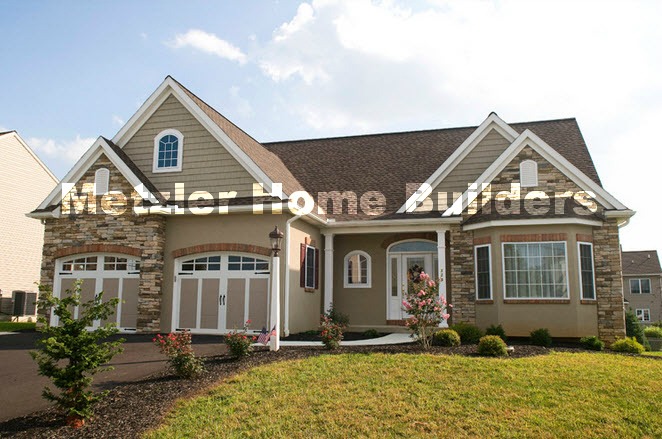 Before dog-days of summer are completely upon us, take a look around your house for at some common exterior problem areas. If you see any of these, make note of them, and try to check at least one off every week. Doing these little things around your house now not only will preserve the exterior, but it will also give you more time to watch football this fall!
Caulking around Windows, Doors, and All Exterior Finishes: Caulk is not designed to last for the life of your home and will eventually break down. This can lead to hidden air leaks and, in certain cases, disastrous results. We recommend checking the caulking on the exterior of your home each year. Our service department is available to do an exterior home inspection and let you know where re-caulking is needed.
Exterior Painting: Wood frames on your exterior doors, porch posts and other painted materials should be painted every 3-5 years to prevent rotting. Rotting door frames is a very common issue that we see and can be prolonged by painting and maintaining proper drainage away from the bottom of the door.
Tree and Shrub Branches: These are often planted close to the house, but as they grow, they can scrape the exterior and cause damage on windy days or completely fall over during a thunderstorm. Keep them trimmed to prevent damage to your property.
Wooden Deck Boards: If you notice a board warping, splitting or splintering, take the time to replace it. Steps can be particularly dangerous, as weak boards can cause someone to fall.
Erosion around Your Foundation: Over time, the soil around your foundation will settle, causing low spots around your foundation. These spots are where water can puddle, and water against your home's foundation can cause greater damage. Fill in these spots with dirt (not mulch) and take special care make sure the soil allows water to flow away from your home.
When it comes to creating your ideal outdoor living space, it is important that you consider how you – and your family – like to enjoy the outdoors. Some love the heat and can't get enough sunshine, while others wish to be shaded and comfortable. Outdoor living really is an extension of your home, and it is our goal to help you get a space you'll actually enjoy.
Here are a few ideas for creating your ideal outdoor living space.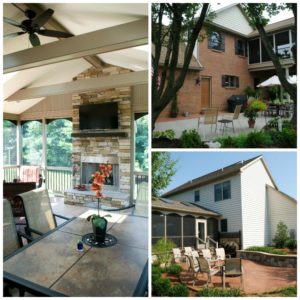 Treated lumber decks are a good option for those looking to define an outdoor living space, as it has low upfront cost. Lumber can be stained or painted to match (or contrast) your home, and a deck is a great place to stick a grill and outdoor table to enjoy a barbeque. One drawback to treated lumber decks, however, is that regular maintenance is required. They must be washed, stained and water-treated regularly to keep the boards from warping and splintering.
Composite decking material, such as Azek, is relatively low-maintenance and is resistant to mold and algae growth, which makes it ideal for high-moisture areas. It comes in a wide variety of color choices, which makes it an attractive option. Many homeowners choose a main decking color and then an accent color for the railing – to give their deck more character. Sometimes, acrylic glass railing is also used, particularly when the homeowner wants an unobstructed view of their backyard.
Patios can be located anywhere in your yard but are typically located adjacent to your home. Concrete, stamped concrete, pavers or bricks can all be used to create this space; however, pavers and bricks can be a bit more maintenance as they can shift out of place and become uneven. Outdoor patio areas often include fire pits, outdoor kitchens and even tranquil water gardens.
Screened-in porches and decks are a great solution if you are looking to create an outdoor space that is protected from the elements (and bugs). While some screened-in porches are rather simple, because this space is protected from the weather, homeowners can feel comfortable incorporating fireplaces, televisions and audio systems into this area -for a truly relaxing outdoor living experience. Panels come in a variety of style options, and you can also choose a partially screened panel – where the bottom is solid – to give the space a bit more privacy.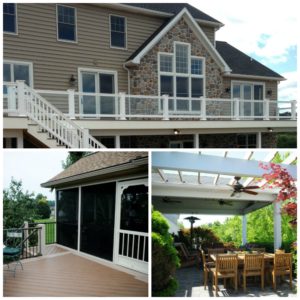 Pergolas are another option for an inviting outdoor living space. They can be built from vinyl or wood, and while wooden pergolas do require more maintenance, many homeowners prefer their classy look. Pergolas provide a partially-shaded canopy to enjoy your outdoor space, and you'll often find interesting climbing vines, such as wisteria, planted around the pergola.
For more outdoor living inspiration, take a look at our photos on Houzz!