Your November Home Maintenance Checklist
---
November 13, 2014
Winter weather will be here sooner than you think, so take some time to do a little maintenance around the house to make sure it is ready to go before the snow, ice and blustery wind get here.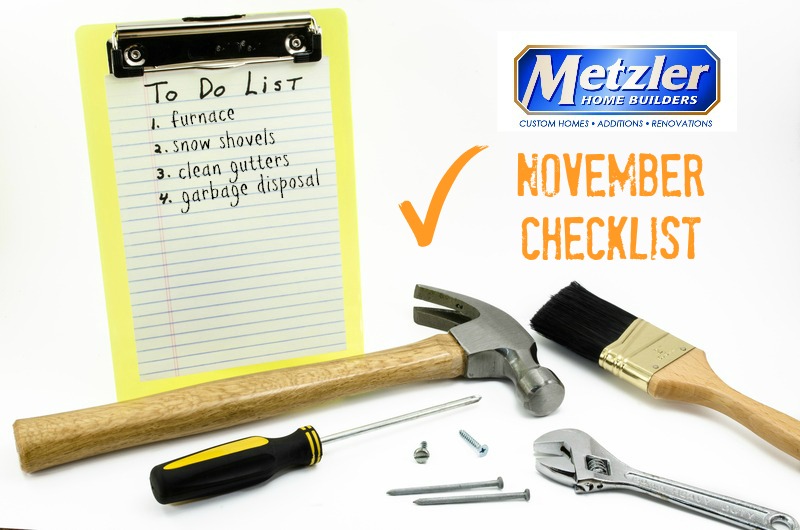 Store your outside gardening tools. Take one more walk around the house to make sure that all of your gardening tools, lawn furniture, planters and hoses are put away for the winter.

Clean out your gutters. While you may have already done this once earlier this fall, look at your gutters again to make sure all the late-fall leaves are removed. Debris in your gutters can cause water to dam up and freeze. If you are unable to safely check your gutters yourself, be sure to hire a professional who can take care of it for you.

Cut back branches. If you have trees and shrubs that are close to your home, trim back any branches that can scrape against the outside.

Organize your winter tools and supplies. Take a look at your winter shovels and snow-thrower and make sure they are all in good working order before they are needed. Now might be a good time to stock up on deicing agents, too, as they are often hard to find once snow is in the forecast.

Schedule furnace maintenance. If you haven't already done so, have your HVAC contractor do a "preventative maintenance" checkup on your furnace. They will clean and inspect it to make sure it is in good working order all winter long.

Clean your garbage disposal. Before holiday cooking and baking get in full swing, clean your garbage disposal. To do so, pour a half cup of baking soda followed by 1 cup of vinegar into the disposal. This will cause a frothing reaction. When that subsides, carefully pour a large pot of boiling water down the drain, and let sit for 5-10 minutes. Afterwards, run tap water down the running disposal until it is rinsed thoroughly.
Related Articles
// END PAGE CONTENT ?> // FOOTER ?> // END FOOTER ?>